Summons Monster
- Need at least level 20 to
summon monster
.
- Need Evil Raccoon dolls, that can buy from market.
- After that right click on the Evil Raccoon dolls, only one certain chance to succeed in summoning, that do not despair when it can be not work immediately.
- Can having 3 summonses.
Use Summon
- To call first summons must press F6, second one is F7 and third one is F8.
- Can adjust
summon monster
either using Attributes "Attack" hunt together with you or using Attributes "Standby" let the summon stay beside you to gain experiences.
- Respectively summon have one Spirit Time's certain amount.
- Can view how much SPT they have in the Summons tab in Status window.
- Higher evolution your summons is greater spirit time amounted he would has.
- Summoning's skill higher will also increase spirit time.
- To manually let Summon attack a monster, have to hold shift and left-click the monster. When your summon kills a monster all by himself, he gets the full base experience from the monster, even from the lowest level monsters.
- Summoning's skill higher also increased summons attack by 1% each 3 levels.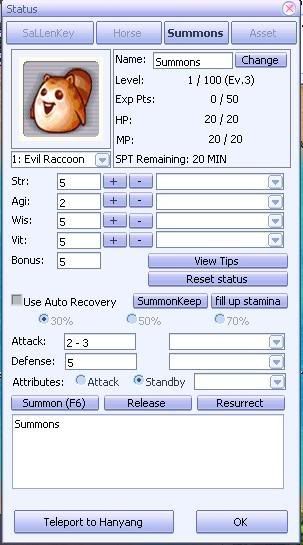 Resurrecting Summon
- When summons is dead, can bring him back to life at the Vlad.
- Doing this you must as numerous doll as level Summon.
- For example, if you have a level 25 Blue Lobster summon, you will need to give 25 blue lobster dolls to Vlad to resurrect him or you can use a resurrection tickets.
Evolving your Summon
- 2 NPC's for this one.
- Clara to buy "Evolution Tickets".
- Vlad to evolve/revive/devolve.
- First, make sure summons level is high enough, then go to Vlad.
- At Vlad, go to the evolve tab, and see what items need to evolve summon.
- This will be 10 Evolution Tickets in the beginning, and later on (at higher evolution level) you will need blessing stones.
- Then go to Clara/Market, and buy Evolution tickets, then evolve your summon
Evolution Level
Summon Level
Monster(s)
Item Needed


1

1

Evil Raccoon

Evil Raccoon Doll

2

5

Pink Rabbit
Green Mushroom Boy
Pink Pig


10 Evolution Tickets

3

7

Country Rat
Mad Chicken
Wild Boar

10 Evolution Tickets

4

9

Boor
Man Cow
Senile Tigress

10 Evolution Tickets

5

11

Green Hopper
Shaman Ladybugs

10 Evolution Tickets

6

13

Blue Lobster

10 Evolution Tickets

7

15

Fruit Brothers

10 Evolution Tickets

8
17
Cyclops Vine
10 Blessing Stones
9
19
Monster Tree
Dung Fly
20 Blessing Stones
10
21
Monkey Brothers
20 Blessing Stones
11
23
Ninja Panda
20 Blessing Stones
12
25
Hotspring Duck
20 Blessing Stones
13
27
Raccoonie
20 Blessing Stones
14
29
Round Crab
Horned Shell
20 Blessing Stones
15
31
Mine Mole
20 Blessing Stones
16
33
Mine Driller
20 Blessing Stones
17
35
Mine Hedgehog
30 Blessing Stones
18
37
Poisonous Mole
30 Blessing Stones
19
39
Jelly Jar
Rocky Ox
30 Blessing Stones
20
41
Ice Hound
30 Blessing Stones
21
43
Froken
30 Blessing Stones
22
45
Frozen Knight
30 Blessing Stones
23
47
Frozen Sorcerer
30 Blessing Stones
24
49
Marionette
30 Blessing Stones
25
50
Wildcat
40 Blessing Stones
26
51
Evil Monster Tree
40 Blessing Stones
27
52
Harpy
40 Blessing Stones
28
53
Mighty Bull
40 Blessing Stones
29
54
Drunken Octopus
40 Blessing Stones
30
55
Drill Shark
40 Blessing Stones
31
56
Right Catfish
40 Blessing Stones
32
57
Turtle
40 Blessing Stones
33
58
Arachnid Specter
40 Blessing Stones
34
59
Mudmole Cannon
40 Blessing Stones
35
60
Skeletor Bat
40 Blessing Stones
36

61

Bloody Bat

40 Blessing Stones

37

62

Werewolf

40 Blessing Stones

38

63

Evil Gaunlet

40 Blessing Stones

39

64

Malcious Butler

40 Blessing Stones

40

65

Apotasy

50 Blessing Stones

41

67

Lady Devil

50 Blessing Stones

42

66

Killer Kangshi

50 Blessing Stones

Summon Pet
QQBear
- Basic Stat: Str 100, Agi 90, Wis 50, Vit 60
- Can equip any armor
- Range Summon
- Can equip bow, gun & cane only
CuBear
- Basic Stat:Str 100, Agi 90, Wis 50, Vit 60
- Can equip any armor
- Range Summon
- Can equip bow, gun & cane only