Basic Horse Training Guide
- Horses give you double inventory space.
- When you ride your horse, the horses stats combine with yours.
- To train a horse all you have to do is feed it the food it asks for. Everytime it eats it gains stats. The higher your horse training skill the more stats it gains everytime it eats.
- Horses do train in the barn, but at a much lower speed.
- All you have to do is keep your horse in the barn with stocked food. It will eat automatically out of your warehouse. It does not let you know what it wants to eat so you have to make sure everything is in stock. It also only trains when you are online.
- You get the same amount of exp when the horse is in the barn as you get when it's out with you.
- Time varies depending if you are online and if you always have enough food. For a level 30, who is on 24/7 and stocked in all foods it takes approx 7-8 real life days.
- The gender of the horse does not make a difference.
- The horse food:Rice, Radish, Parsley, Shitake Mushrooms, Mung Bean, Potato, Sweet Potato, Onion, Cucumber, Carrot, Garlic, Bean, Sesame Seed, Wheat, Honey & Salt.
- Every year when horse increase age, they took longer time to get hungry. Here is the detail:
Less then 1 year old = 22minutes
1 Year Old = 22minutes
2 Year Old = 22minutes
3 Year Old = 34 minutes
4 Year Old = 42minutes
- Horse will gain double stats (you will get double exp also) when it their birthday.
Horse Training Skill Exp And Stats Increase Table
| | | | | | |
| --- | --- | --- | --- | --- | --- |
| Skill level | Stats | Exp | Skill level | Stats | Exp |
| Lv1 | 0.02 | 4 | Lv26 | 0.26 | 52 |
| Lv2 | 0.02 | 4 | Lv27 | 0.26 | 52 |
| Lv3 | 0.02 | 4 | Lv28 | 0.28 | 56 |
| Lv4 | 0.04 | 8 | Lv29 | 0.28 | 56 |
| Lv5 | 0.04 | 8 | Lv30 | 0.3 | 60 |
| Lv6 | 0.04 | 8 | Lv31 | 0.3 | 60 |
| Lv7 | 0.04 | 8 | Lv32 | 0.3 | 60 |
| Lv8 | 0.08 | 16 | Lv33 | 0.3 | 60 |
| Lv9 | 0.08 | 16 | Lv34 | 0.3 | 60 |
| Lv10 | 0.1 | 20 | Lv35 | 0.3 | 60 |
| Lv11 | 0.1 | 20 | Lv36 | 0.3 | 60 |
| Lv12 | 0.12 | 24 | Lv37 | 0.3 | 60 |
| Lv13 | 0.12 | 24 | Lv38 | 0.32 | 64 |
| Lv14 | 0.14 | 28 | Lv39 | 0.32 | 64 |
| Lv15 | 0.14 | 28 | Lv40 | 0.32 | 64 |
| Lv16 | 0.16 | 32 | Lv41 | 0.34 | 68 |
| Lv17 | 0.16 | 32 | Lv42 | 0.34 | 68 |
| Lv18 | 0.18 | 36 | Lv43 | 0.34 | 68 |
| Lv19 | 0.18 | 36 | Lv44 | 0.34 | 68 |
| Lv20 | 0.2 | 40 | Lv45 | 0.34 | 68 |
| Lv21 | 0.2 | 40 | Lv46 | 0.34 | 68 |
| Lv22 | 0.22 | 44 | Lv47 | 0.34 | 68 |
| Lv23 | 0.22 | 44 | Lv48 | 0.34 | 68 |
| Lv24 | 0.24 | 48 | Lv49 | 0.34 | 68 |
| Lv25 | 0.24 | 48 | Lv50 | 0.34 | 68 |
Mount Stat
| | |
| --- | --- |
| Brown Horse | Stats |
| Speed | 15 |
| Strength | 30 |
| Agility | 30 |
| Wisdom | 30 |
| Life | 3000 days |
| | |
| --- | --- |
| White Horse | Stats |
| Speed | 20 |
| Strength | 40 |
| Agility | 40 |
| Wisdom | 40 |
| Life | 5000 days |
| | |
| --- | --- |
| Blue Horse | Stats |
| Speed | 20 |
| Strength | 40 |
| Agility | 40 |
| Wisdom | 40 |
| Life | 5000 days |
| | |
| --- | --- |
| Black Horse | Stats |
| Speed | 20 |
| Strength | 40 |
| Agility | 40 |
| Wisdom | 40 |
| Life | 5000 days |
| | |
| --- | --- |
| Wind Storm | Stats |
| Speed | 20 |
| Strength | 40 |
| Agility | 40 |
| Wisdom | 40 |
| Life | 5000 days |
| | |
| --- | --- |
| Zebra | Stats |
| Speed | 20 |
| Strength | 40 |
| Agility | 40 |
| Wisdom | 40 |
| Life | 5000 days |
| | |
| --- | --- |
| Fire Storm | Stats |
| Speed | 20 |
| Strength | 40 |
| Agility | 40 |
| Wisdom | 40 |
| Life | 5000 days |
| | |
| --- | --- |
| Armored Horse | Stats |
| Speed | 20 |
| Strength | 50 |
| Agility | 40 |
| Wisdom | 40 |
| Life | 5000 days |
| | |
| --- | --- |
| Vixen | Stats |
| Speed | 20 |
| Strength | 50 |
| Agility | 40 |
| Wisdom | 50 |
| Life | 5000 days |
| | |
| --- | --- |
| Raindeer | Stats |
| Speed | 20 |
| Strength | 35 |
| Agility | 35 |
| Wisdom | 40 |
| Life | 5000 days |
| | |
| --- | --- |
| Wolf | Stats |
| Speed | 20 |
| Strength | 40 |
| Agility | 55 |
| Wisdom | 45 |
| Life | Unlimited |
| | |
| --- | --- |
| Tiger | Stats |
| Speed | 20 |
| Strength | 55 |
| Agility | 50 |
| Wisdom | 45 |
| Life | Unlimited |
| | |
| --- | --- |
| Camel | Stats |
| Speed | 20 |
| Strength | 40 |
| Agility | 40 |
| Wisdom | 80 |
| Life | Unlimited |
| | |
| --- | --- |
| Elephant | Stats |
| Speed | 20 |
| Strength | 80 |
| Agility | 40 |
| Wisdom | 40 |
| Life | Unlimited |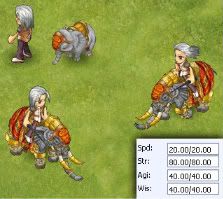 | | |
| --- | --- |
| Motorcycle | Stats |
| Speed | 20 |
| Strength | 70 |
| Agility | 70 |
| Wisdom | 60 |
| Life | Unlimited |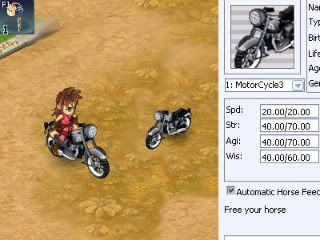 | | |
| --- | --- |
| Flame Hatch | Stats |
| Speed | 20 |
| Strength | 65 |
| Agility | 70 |
| Wisdom | 65 |
| Life | Unlimited |
| Extra | Attack +100 dmg |