Subscribe Stock
- To get stocks from Stock Offerings, you must be level 20 and have 100,000[M] on your character (not bank).
1. Go to the Stock Market in any town and click Subscript.
2. Choose the town you want to buy stocks from (in this case Sambara).
3. Click 'To Subscribe'.
- Now you will wait until the Stock offering is closed and the winners of stocks are chosen randomly. If you were not chosen, you will get your money back for subscribing and if you were chosen you will see stocks in Personal Stock Status, under Sales in the Stock Market.
Buy & Sell Stock
- The Sales section of the Stock Market is for trading shares between players (not for stock offerings from the server). It is also important to note that if the shares you are buying have already been used to vote in the current Town chief election, you cannot use them to vote again.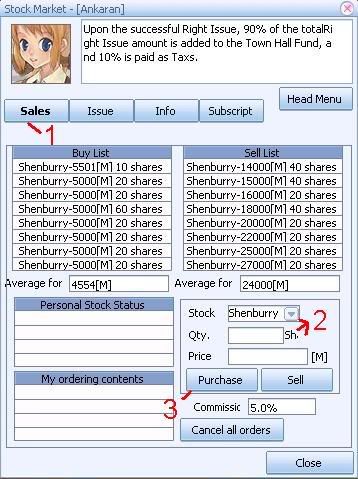 1. Go to any Stock Market and click Sales tab
2a. Choose the town you want to buy/sell stocks for.
2b. Enter the amount you wish to pay or receive for each share (not total cost!)
2c. Input the number of shares to buy or sell.
3. Click purchase if you are buying shares, or Sell if you are selling.
Town Opening


- First Opening
15 Dec 07: Sambara
16 Dec 07: Shenburry
17 Dec 07: Talatat
18 Dec 07: Dromopolis
19 Dec 07: Almasha
- Second Opening
12 Jan 08: Athravan
13 Jan 08: Ankha
14 Jan 08: Svaha
15 Jan 08: Nortonham
16 Jan 08: Baronia
- Third Opening
29 Mar 08: Padonvania
04 Apr 08: Kucha
12 Apr 08: Louhan
18 Apr 08: Brashkent
26 Apr 08: Pershire